Anthropologie plans exhibit for NOLA artists at New York store
by Susan Langenhennig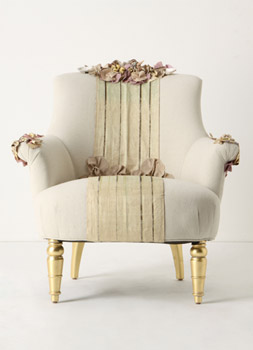 Anthropologie, the fashion and home decor store that has collaborated with several local designers, keeps shining the spotlight on Crescent City talent.
The Philadelphia-based chain is planning an exhibition of works by New Orleans artists for Jan. 19 from 1 to 3 p.m. at its Rockefeller Plaza store in New York City.
Called "Beyond the Quarter", the exhibit will feature artists Helene Florence, Kaki Foley, Patsy Grace, Shelley Hesse, Gretchen Howard, Sarah Ashley Longshore, Alexa Pulitzer, Rebecca Rebouche and Jon Schooler.
The exhibit includes several new items, including chairs and paintings. What makes Anthropologie's approach a little different is that the chain collaborates with designers to create new pieces that often aren't in their original medium. For example, the exhibit includes a French style settee covered with stationery and textile designer Alexa Pulitzer's flourishing "Laissez les Bon Temps Rouler" script.
If you can't make it to New York, Anthropologie features much of the NOLA-designed pieces at its store in The Shops at Canal Place.